Blank slate turned sanctuary

Formal outdoor space blends with the stately home.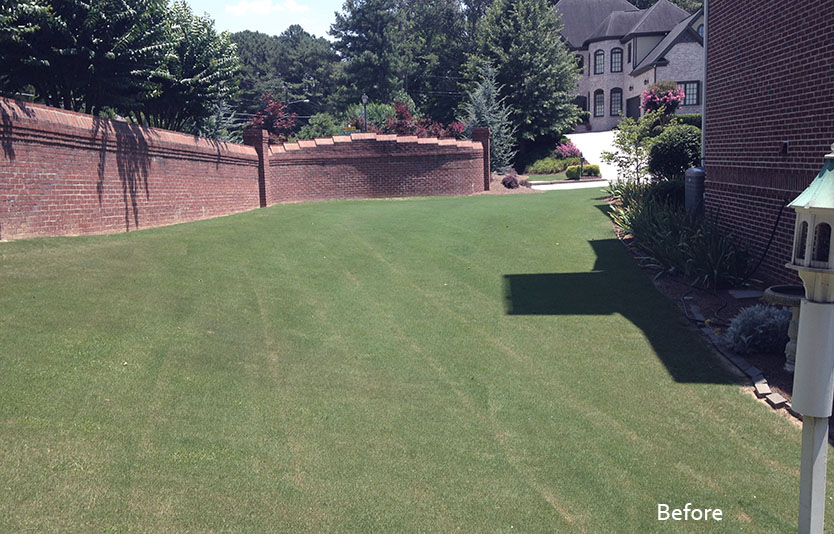 These two empty-nesters with a love of gardens wanted to create a sanctuary of their own, and their yard was a blank slate.  Using materials that blend with the existing architecture, and formal geometry that maximizes the limited available space, this design creates a seamless extension of the elegant residence while fulfilling the client's wishes for a luxurious, formal garden and outdoor entertaining space.
The couple enjoyed garden tours and wanted a formal, outdoor entertaining space of their own to match their stately home. They hoped to create a place for relaxing, dining and entertaining. Also high on their list was hiding the existing, unsightly wall along one side of the property, and alleviating some drainage issues in the lower areas of the property.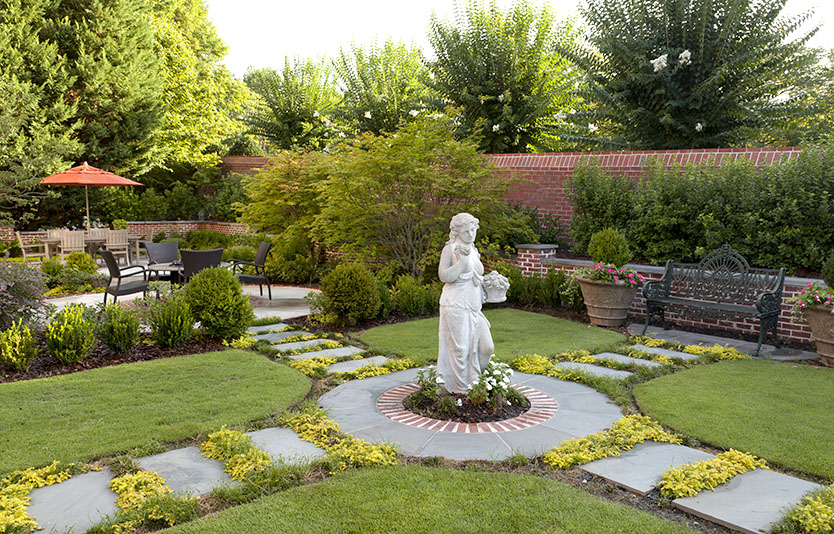 The once-imposing brick wall in the background, which was built by the subdivision, has been downplayed and screened using new walls and planting.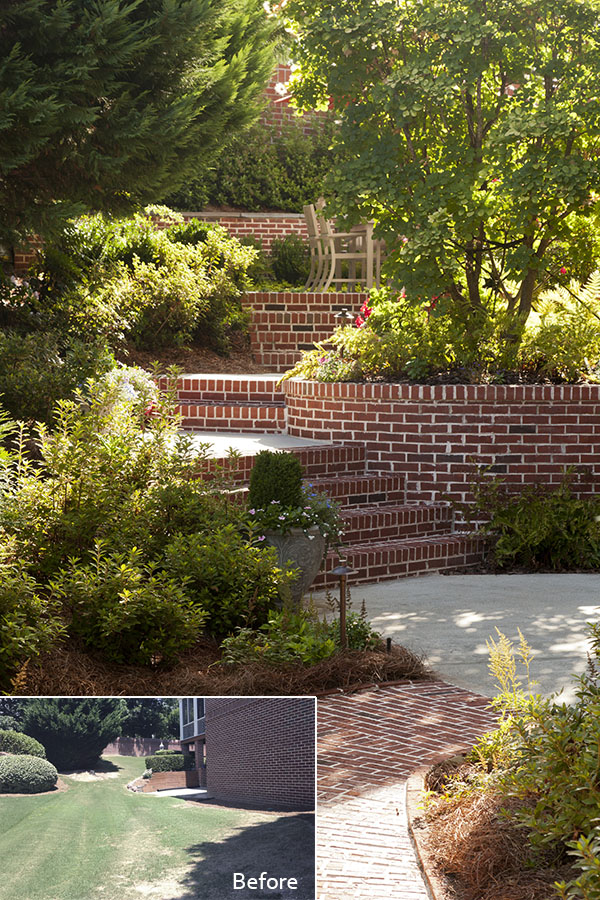 Numerous new walls were constructed, which accomplished a number of goals. First, they created an enclosed, seamless extension of the homes architectural style. Second, they provided the level spaces the homeowners desired. And finally, they helped hide the existing wall along the property line, which was poorly built and an eyesore for the homeowners.
The gardens are arranged along the northeast side of the home in a sequence of spaces, each with a distinct function. The new garden provides a perfect spot for outdoor dining.
To create formal spaces, a gradual slope had to be leveled, and one corner of the house had to be waterproofed below the new finished grade. 
The area behind the home was once a problem for the homeowners due to poor drainage. The hill drained toward the house, and water had nowhere to go, leading to dead grass and water damage to the home.
Space was regraded and outfitted with a retention structure under the path in the foreground. Now the area is dry, welcoming, and new plantings are thriving.
---

Creating Atlanta's finest private outdoor living spaces and making dreams a reality since 1992.
Ed Castro Landscape, Inc. is an award-winning, full-service landscape firm that provides everything necessary for a homeowner to enjoy a unique and sustainable landscape.
As a full-service construction, horticulture and maintenance firm, we take pride in transforming your outdoor living space with our talented and experienced staff of designers and landscape professionals.