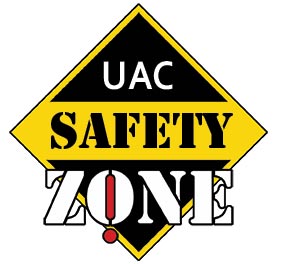 UAC Safety Zone awards recognize UAC business-level member companies who have implemented safety and loss prevention programs through management commitment, employee involvement, and program innovation.
What new?
Amped up
Safety Zone has a new twist: now you're

competing against your fellow UAC members!
For the Safety First Awards, the winners will be those with the lowest number of accidents, injuries, illnesses and/or lost time when compared to the other entries.
Entries will be divided into categories based on fleet size and company size.
Streamlined
No calculations or volumes of paper needed.
Just submit the entry form and a form or two that you already have at your fingertips.
New categories, more chances to win
New award categories for photos and videos that demonstrate your safety measures.
Three chances to win a trophy in each category, plus your photos/videos could be featured on UAC's website.
Why enter?
Public recognition
Winning companies will be listed on UAC's website and the award will be included on your company's individual UAC web profile page, increasing your credibility and visibility.
UAC will provide you with a press release to publicize your company's proactive approach to safety.
Safety impacts your business
Safety and health performance are important to the overall success of your company. You can protect your employees by reducing and preventing exposure to hazards.
A safe work environment results in less absenteeism, higher morale and enhanced relationships between labor and management.
Obviously, employees benefit when injuries and illnesses decline, but so can your company's bottom line.
Dollar savings can be dramatic, including substantial reductions in workers' compensation expenses.
Good safety ratings can make you more competitive when bidding for new projects.
Getting in the Safety Zone will make your business OSHA-ready
Having documented safety programs in place greatly reduces your exposure to OSHA-related violations and fines.
Safety issues? Enter anyway!
If your company has been struggling with safety issues, entering these awards will show your employees that you are serious about stepping up safety efforts.
Quick facts
There is no entry fee but you must be a current UAC business-level member.
These awards recognize safety performance from January 1 – December 31.
Member companies are encouraged to enter any or all of the award categories.
Timeline
Application deadline for 2016 awards: Deadline extended to March 10, 2017
Awards given at the April 2017 UAC dinner meeting
Sponsored by