Landscape comes to life with TLC and a plan.
After purchasing this hidden gem in a prominent Atlanta community the owners wanted to remodel the outside of the home in phases. This allowed for stretching the budget and keeping some of the plants that wouldn't get overgrown again for many years.
Since the home hadn't been lived in for several years, the landscape needed attention and corrective pruning to some of the plants was initially performed. Thinning of a few trees overreaching the pool and heavy correctional pruning to the front foundation plants took place the first spring.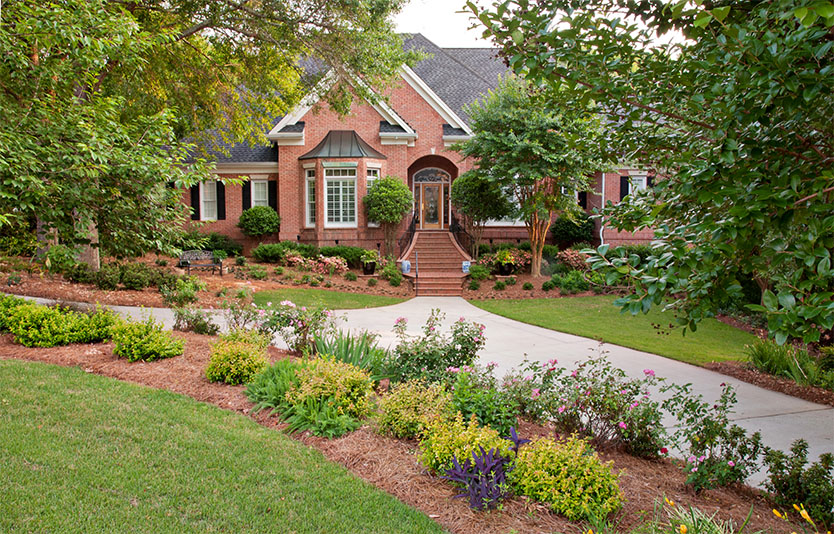 The front yard saw the most changes with thinning of unhealthy and overgrown trees along with the addition of extensive ground layer plant material. Raising the canopy and thinning of older trees also opened the front up and allowed the addition of more colorful shrubs and perennial plantings in this mostly shaded property. The "row" of plants that touch the front of the home were pruned hard the first year which allowed us to gain the trust of the homeowner and ease into the renovation financially. After seeing the foundation plantings grow back into lush, small and healthy shrubs, the homeowner trusted us to perform further "surgery" on their property.
The front island at the street saw removal of mostly dead and shaded roses, a diseased cherry and a leaning pine tree, with community approval.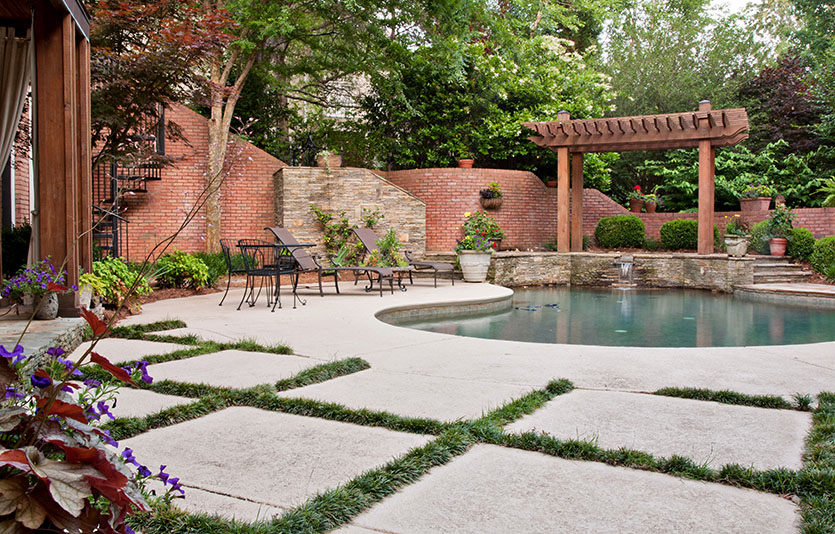 Container gardens were designed and installed to soften the hard surfaces, accentuate the outdoor spaces in front and back, and to draw the eye to key spots at the front entrance and pool area.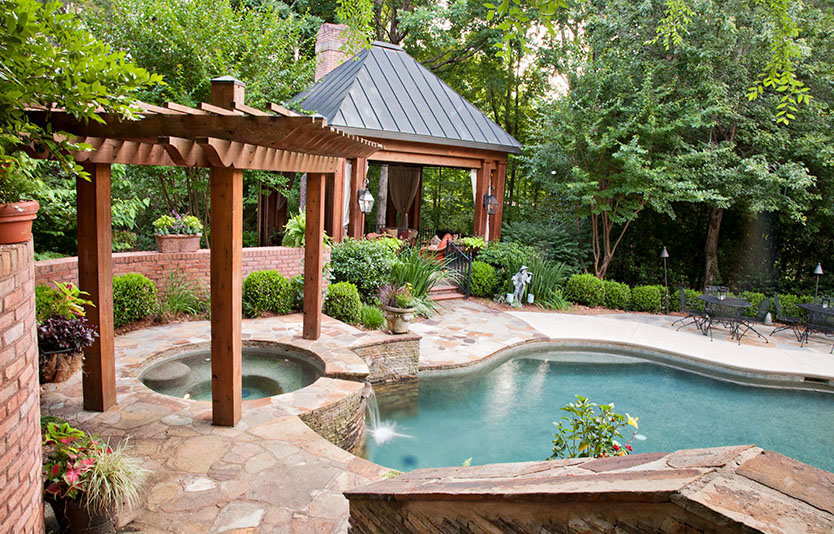 An extension to the pool deck was added with matching crab orchard stone to allow for more furniture. Dwarf Mondo Grass replaced thin turf in the pool deck strips. Additional Boxwood plantings helped defined the pool space giving separation from the natural wooded area behind the pavilion and pool deck while also softening the brick wall behind the spa.
---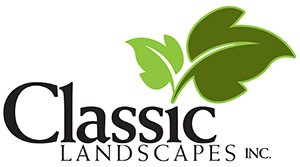 Classic Landscapes, Inc. designs, builds and manages outdoor environments for discriminating clients in South Atlanta and beyond. Classic's leadership team has been providing award-winning services in the southern crescent since 2005.
Headquartered in Hampton, Georgia Classics' key people have 60+ years of experience in the creation and stewardship of great outdoor spaces. Contact us today and see why "Good ideas never go out of style".