Southern grapes for southern gardens
Choose the best grapes to grow in your garden.
Growing up in an Italian family, my mother would reminisce about my grandfather's grapevines and the annual ritual of stomping on the grapes to make wine in the basement. While this memory always brought to mind a favorite "I Love Lucy" episode with Lucy and Ethel in traditional Italian garb and kerchiefs, the romantic idea of growing grapes in your own backyard nonetheless is still very appealing.
While Sangiovese and pinot grigio grapes are perfectly suited to growing in the Mediterranean region of Europe, the hot and humid south has its own native grape that is an easy addition to any garden that hosts full fun and plenty of vertical room for planting.
Muscadine grapes (Vitis rotundifolia) are true fruit for the South.  Muscadines are native to the United States and were a favorite fruit of the American Indian inhabitants. Early setters collected muscadines after climbing up trees and ate them fresh. Their wives squeezed out the sweet fruity juice and made it into jelly and pies.
200 years ago, a luscious bronze-colored muscadine was discovered growing near the Scuppernong River in North Carolina. This grape was extremely sweet, large, juicy, and fruited reliably every year, so settlers prudently began to root branches from this choice plant, and the plants were spread rapidly throughout the Southeast.
Although muscadines can be grown successfully in most parts of the state, they are best adapted from Piedmont to the Coastal Plain. The severe winters of the mountains hamper production there.
The bronze variety, Scuppernong (self-unfruitful), and the black variety, Thomas, are the most requested and widely known. There are many other varieties of muscadines currently available, and some of the better-quality varieties are listed below. Remember, if only one vine will be grown, it must be perfect-flowered to produce fruit.
Perfect-flowered
The following varieties are perfect-flowered types (male and female flower parts). A single vine will be self-fruitful.
'Carlos' is the bronze choice for multiple uses, including fresh or for juice, wine, or jams and jellies.
'Cowart' has black fruit, and is a vigorous and productive plant with berries that ripen medium early.
'Doreen' is a very late-ripening bronze variety that is delicious fresh or for wine.
'Nesbitt' is a mid-season fruiting grape that is good for fresh eating.
'Tara' has early-ripening bronze fruit and is recommended for fresh use.
Pistillate
There are also highly productive muscadines that are pistillate types (only female flower parts) that must be interplanted with perfect-flowered cultivars for proper pollination and fruit set to occur.
'Fry' is the most popular bronze variety and the leader in fresh market muscadines.
'Darlene' is a newer bronze variety with probably the largest fruit available.
'Sugargate' is an older black variety with very sweet, large fruit.  Excellent flavor and very early ripening make this a great selection for the home garden.
'Black Beauty' is a large fruiting grape of high quality, which ripens mid to late in the season. It's considered one of the best black muscadines ever developed.
'Supreme' is the largest black variety, with excellent vigor and productivity.
'Scarlet' is a new variety that has red fruit and great productivity.
As with most flowering and fruit-producing plants, a sunny, well-drained location is a must. As long as drainage is good, muscadines do fairly well on most soil types with a pH between 5.8 and 6.5.
Select one-year-old container-grown plants for best success, and plant in holes that are large enough to spread the roots without crowding. Plant the vines at the same depth as they grew in the nursery and partially fill the hole with topsoil, watering when planting and consistently throughout the establishment. As with all ornamental plantings, mulch with compost or shredded leaves.
Besides proper planting, fertilization, trellising and pruning program is highly recommended to ensure that your muscadine plants will perform to their maximum potential.
For detailed instructions provided by the University of Georgia Cooperative Extension Service, visit http://pubs.caes.uga.edu/caespubs/pubcd/L225-w.html or call your local extension service for the brochure Home Garden Muscadines.
Plant a row or two of muscadines to enjoy wonderful grapes for many years to come. By choosing grape varieties that are compatible with Georgia's unpredictable climate, you'll enjoy the fruits of these romantic vines and the idyllic nature of growing your own vineyard for countless years.
Photo credit: David Nance, USDA Agricultural Research Service, Bugwood.org
---
About the author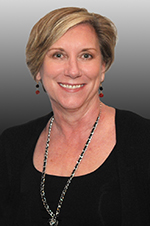 Mary Kay Woodworth is Executive Director of the Georgia Urban Ag Council. In her spare time, you can find her digging in the dirt, pulling weeds, and writing garden-related articles for publication.