Balancing perennials for season-long success.
When we think of seasonal color design, we typically think of annual gardens that are replaced twice a year.  Perennials are infinitely more challenging. They create a completely different look and feel than annuals. As some flowers begin to bloom, others fade. The balance of maintaining a beautiful display through the rise and fall of different floral varieties is key to a season-long success.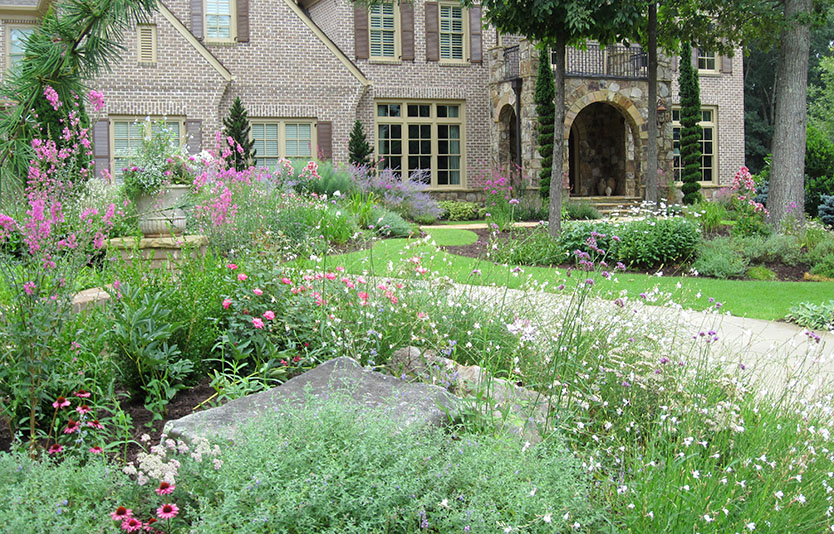 Our client envisioned a perennial wild-flower meadow in shades of pink, white, blue, and lavender: wispy, fluffy, loose drifts of pastels with no structural plants, evergreens, foliage accents or warm colors.  She wanted a resulting design that is completely unique for a front lawn, especially in a gated community where landscapes tend to look similar.
Perennial selections include flowers that bloom in early spring, mid-summer, and early fall.  For winter, the garden is cut back as required for each perennial species.  Each year, perennials have to be thinned and contained to keep aggressive species from overtaking the garden.  Some winters are hard on perennials, so favorite selections need to be replaced after the garden is evaluated during the early spring emergence.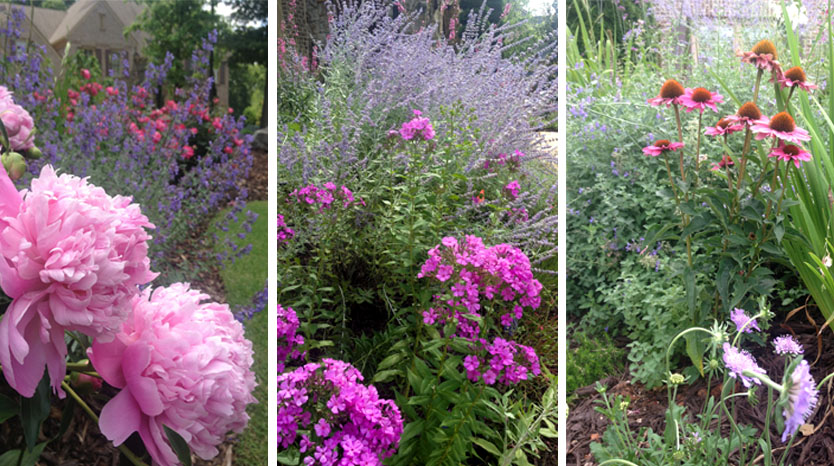 Left: Welcome spring! Peonies and Catmint announce that seasons have officially changed.
Middle: Look! Phlox without fungus! Lythrum is also visible behind the Russian Sage.
Right: Coneflower, Scabiosa and Catmint bloom alongside the grassy foliage of a Siberian Iris. Plants have been thinned to allow new growth for the season.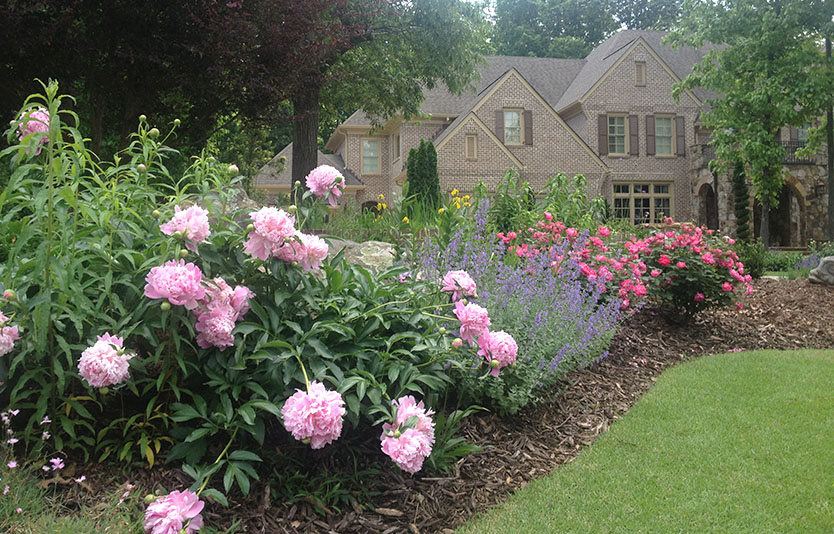 The spiky texture of the Nepeta contrasts nicely with the fluffy blooms of the peony and the stately flowers of Double Knockout Roses.
Stepping out of our comfort zone to create this homeowner's dream was a challenge, but the end result was well worth the effort.
---

When owner Jenny Hardgrave started Simply Flowers Inc. in 2001 she had $10 in her pocket and a dozen clients. She had already cut her teeth in the horticulture world as a seasonal color designer and production manager for a prominent Atlanta landscape company. This Tennessee native grew up in a family of entrepreneurs; she was willing to work hard and take chances. Her dream was to launch her own business – one that would concentrate solely on seasonal color. So with a box truck given to her by her father and an F-150 nicknamed Diva, Jenny and her small staff started changing the floral landscape in Metro Atlanta.
Simply Flowers has a reputation for unique designs, quality flowers and outstanding customer service. Now, the company has grown from 12 clients to over 700! Not only are Jenny's designs creative and colorful, she understands the importance of caring for the plants once they are in the ground.  With her TLC, flowers thrive!