Maximum use with minimum maintenance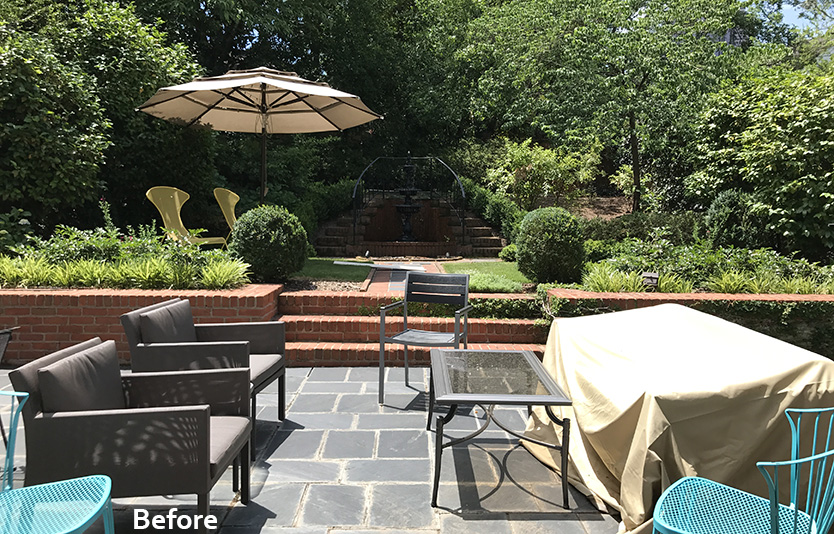 This project transformed an outdated and underutilized rear yard to a bright, new, fresh landscape beaming with appeal. The existing rear landscape offered a mix of grade changes, low walls, overgrown plant material, and bare landscape bed areas. Additionally, a central foundation in disrepair and small, chopped-up landscape spaces decreased the usability of the rear yard.
Our design removed the rear central terrace, the existing landscape beds, and re-graded the rear yard to expand the level, usable space within the rear of the property. An existing freestanding brick wall surrounding the spaces was to remain, per the homeowner's desires, and was to be integrated with a new pool and spa with a modern concept.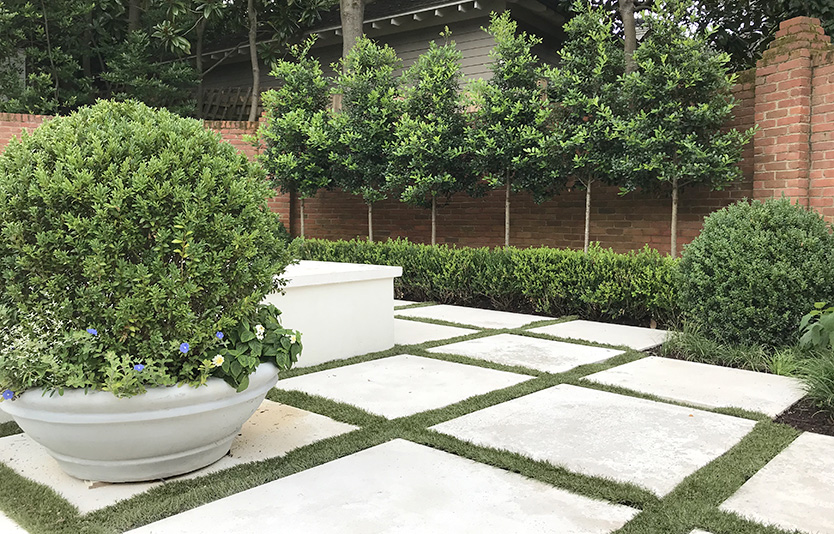 A new Hartstone terrace replaced the old Cherokee slate, and Indiana pea gravel and artificial turf were used to expand the usable areas of the property for entertaining. New foundation plantings were installed along the existing brick walls to add to the updated, fresh look. Additionally, the side door entry was renovated with a new pea gravel walk and Hartstone landing. Outdoor lighting was renovated to accent the new architectural elements, and the landscape irrigation system adjusted to provide coverage to all new planting additions.
A main difficulty of this project was the goal to pair the requested modern landscape with the historic 1920's architecture of the home while preserving the goal of maximum use and low maintenance design. Architectural elements and landscape materials were chosen that would pair well together and that would provide a timeless, and classic design. The grading of the property was planned to allow for maximum use of the spaces, while minimizing the needs of steps, handrails, etc. The pool was raised 6" above the finished grade of the lawn areas to provide a unique visual aesthetic but to also satisfy the technical function of a drop less than 30" from the upper landing, removing the requirement of a handrail. This small gesture spoke volumes in this small space to make a unique and one-of-a-kind look and maintained the clean and modern appearance that the clients were hoping for.
---
The goal of Floralis will always be to create environments representing creative, fresh ideas, recognized for their quality and unparalleled attention to detail.
At Floralis, our passion for detailed execution is reflected in a wide range of garden installation and project management services. Specimen plant and site furnishing selection, container compositions, and seasonal color coupled with transparent communication ensure each project achieves the highest quality standard.