Bright spots in the shade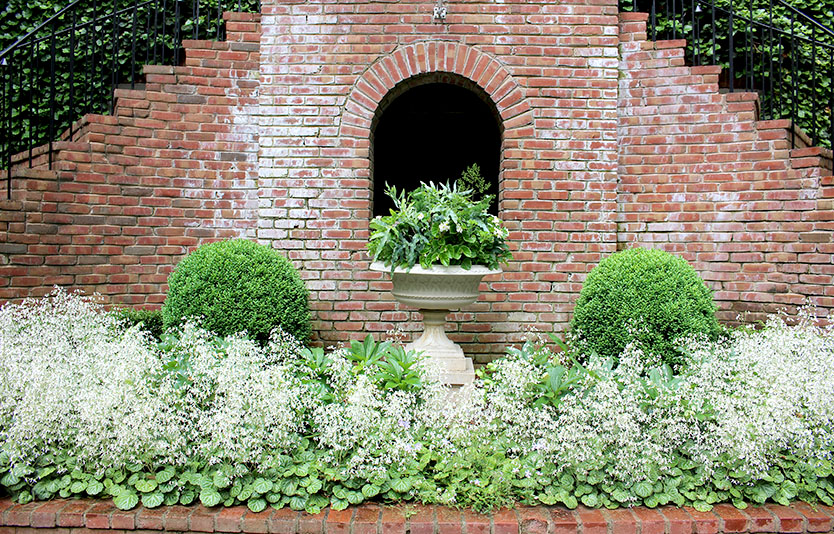 The landscape at the residence is simple, clean-lined, and mainly evergreen.  The container plantings are meant to accent the landscape, add seasonal color and interest, bring brightness to shade-filled areas of the landscape, and highlight areas of interest throughout the property.
This Seasonal Container project is not only managed and maintained by our firm, but we have also designed and installed the permanent and seasonal container plantings. We perform weekly maintenance visits in which we prune, deadhead, fertilize, and supplement the container plantings.  Additionally, we regulate watering portions for the containers, supplementing with hand-watering when needed during the hot summer months.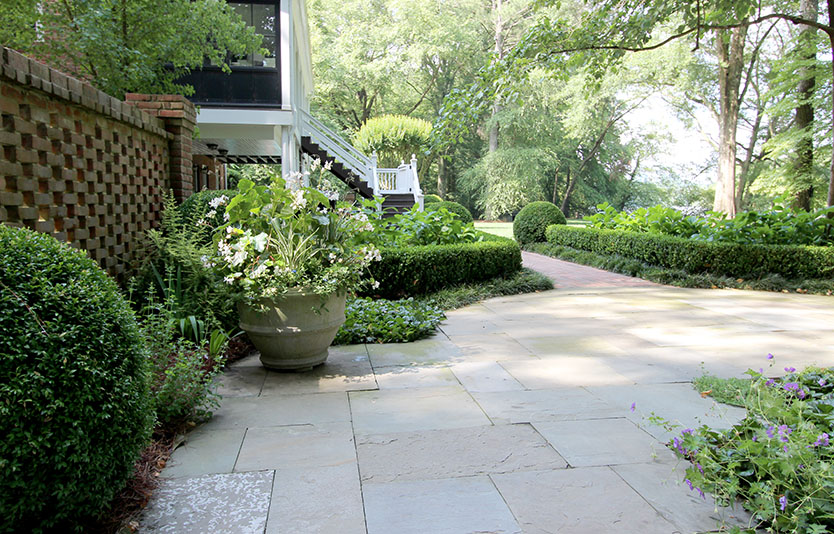 A view of a rear garden terrace container, one of nine containers that add color to this shade-garden space.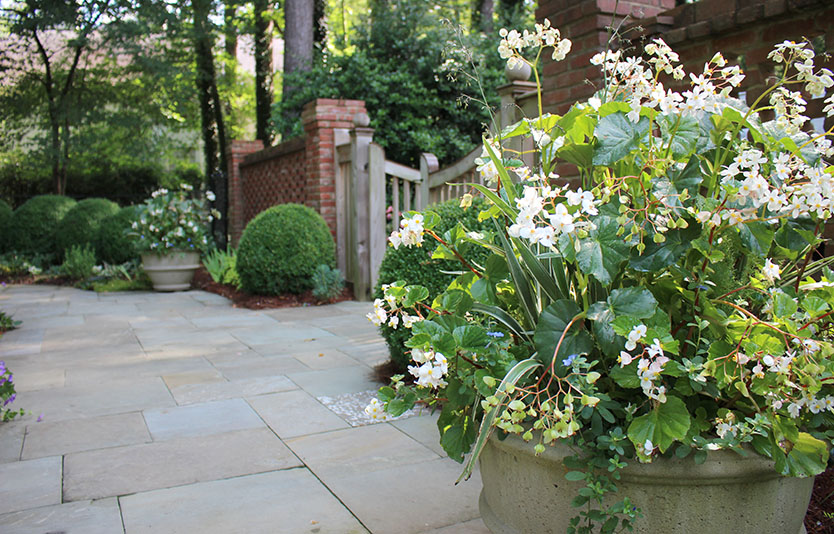 A close-up view of a rear garden terrace container with plantings of Variegated Dianella, White Begonia, and Blue Daze.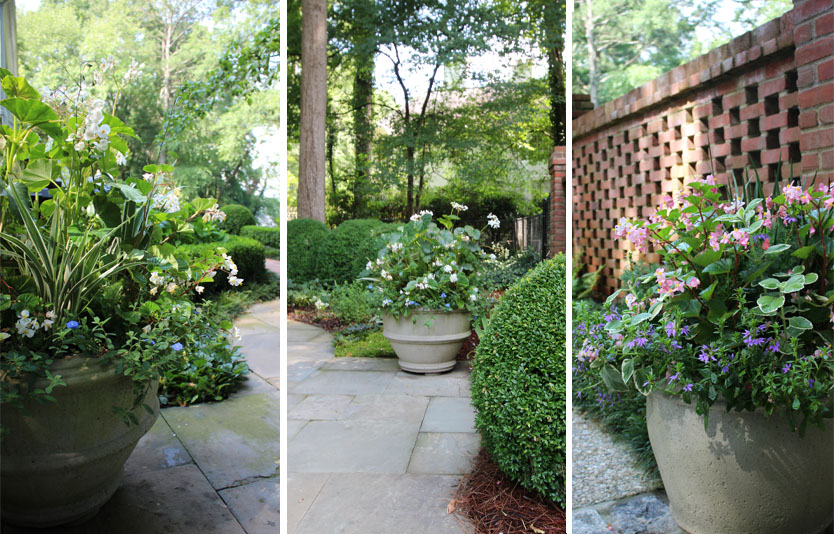 From left: A late-season shot of the rear garden terrace containers with Dianella, Begonia, and Blue Daze all in-bloom. A view of the white-garden container plantings, companions to the shade garden containers, planted with white-flowering and variegated foliage plants to add brightness to a shady garden space. A close-up view of the entry container plantings with Begonia, Iris, Scaevola, Ming Fern, and Plectranthus.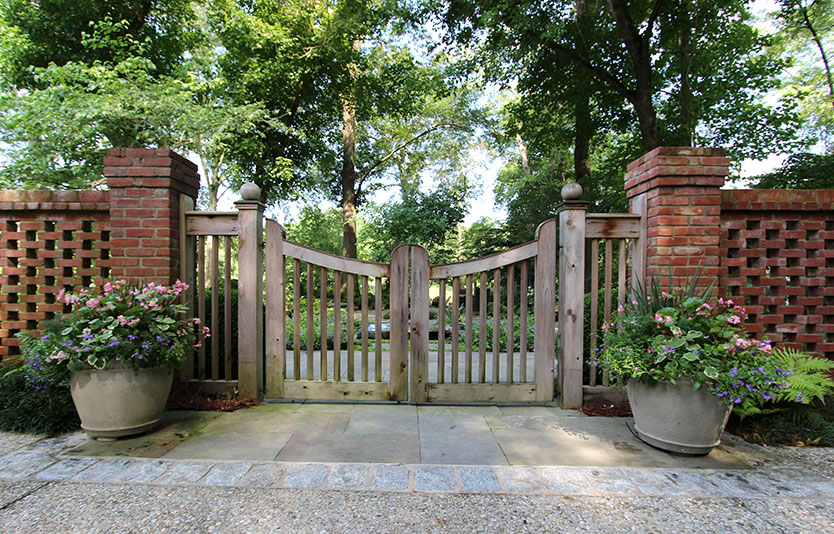 Containers flank the rear garden entry gates to add a welcoming touch and to soften the junction of the driveway and rear garden terrace.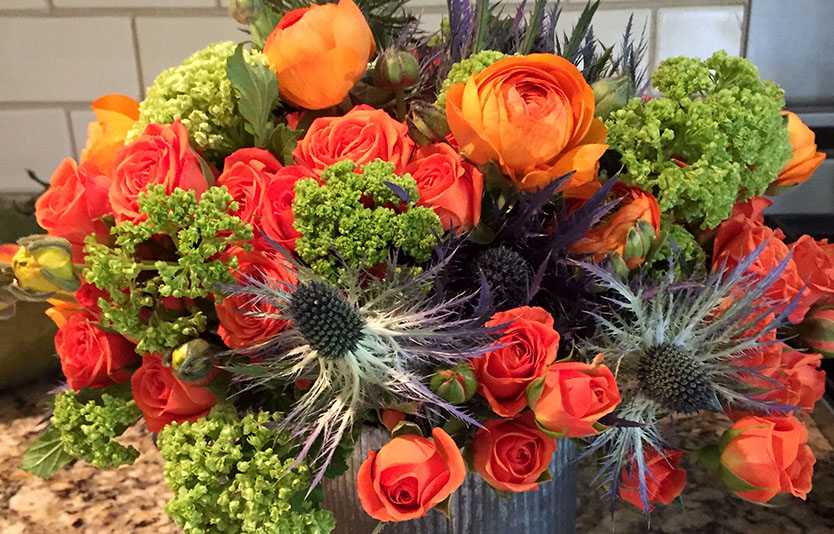 Additionally, we perform extra maintenance visits and complete special event arrangements for the interior and exterior of the home when parties or company is expected at the home. Above is a shot of a cut-flower arrangement, one of several that were completed for an outdoor early summer garden party.
The goal of Floralis will always be to create environments representing creative, fresh ideas, recognized for their quality and unparalleled attention to detail.
At Floralis, our passion for detailed execution is reflected in a wide range of garden installation and project management services. Specimen plant and site furnishing selection, container compositions, and seasonal color coupled with transparent communication ensure each project achieves the highest quality standard.