As we begin a new year – 2016 – on behalf of the UAC board, thank you for your continued membership and involvement in the Georgia Urban Ag Council.
Why belong?
According to a 2014 survey by Wild Apricot (a web-based association membership tool), there are six main reasons to belong to an industry association:
Networking. In the great race to the top, who you know matters - and industry and trade associations are filled with potential contacts.Associations give members a chance to connect and create relationships, making them fabulous networking opportunities for members who want to strengthen ties with clients or colleagues in their industry, hunt for jobs, or make long-term beneficial connections.
Events. Networking happy hours that give members a chance to form valuable connections, trade shows that help members stay up-to-date on industry developments, and seminars and workshops to provide continuing industry education.

Professional development.

Continuing education and professional development is key if you want to succeed in your profession. Peer-to-peer learning and potential mentorship opportunities that associations provide allow members to pool their knowledge and take advantage of each other's experiences.
Learning best practices. If you're new in the game and don't have much experience, ignorance of best practices can pose a serious business and reputational risk. A forum for promulgating industry-wide best practices, and becoming a member of your industry association gives you a resource to learn what best practices govern your chosen field, and a head start on compliance if best practices are amended or change.
Information/news. Becoming a member of an industry association gives you a fast pass to any noteworthy news or developments in your industry. Staying up-to-the-minute on industry news allows members to take advantage of changes or developments that might otherwise have passed them by.
Support the organization's mission. Associations give voice to a group that might otherwise be ignored, supporting the development of industry professionals, and acting as a watchdog for the well-being of the industry as a whole. Individuals may join an organization because they believe in and support the mission of the organization and the work the organization does, even if they don't use or need the other opportunities it provides.
We hope that #6 is as important to you as it is to us.
After all, members have often dedicated their professional lives to that field – they want it and others in it to succeed.
In 2016, we hope that you'll remain committed to our association, and help us grow. Encourage your colleagues to join, your employees to participate and get involved. Thank you for your continued support!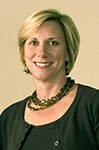 Mary Kay Woodworth
Executive Director