Pesticide Credits & CEUs: Georgia, Alabama, South Carolina, North Carolina, Tennessee, APLD, GCLP/GCCP, GGCSA, IA, ISA, NALP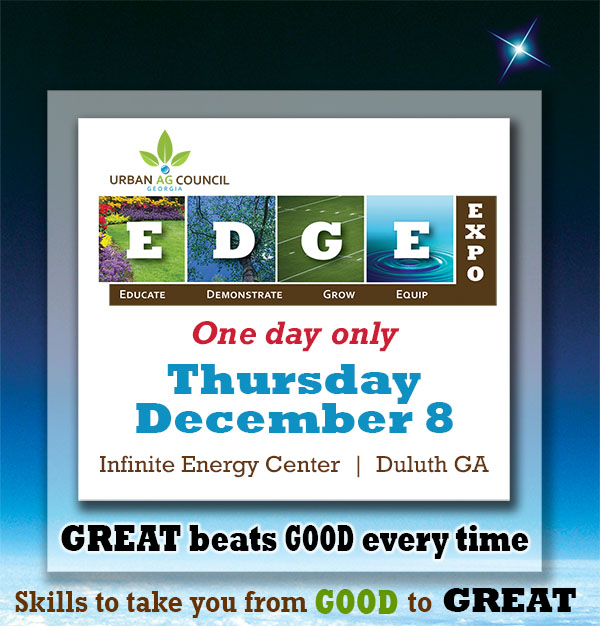 ---
Pesticide Credits and  CEUs that get it done

Pesticide applicator test prep training

GCLP test review

BELGARD UNIVERSITY, offering free hardscape design and installation training
New for 2016:
A la carte registration options to save you time and money! Attend the morning or afternoon sessions…..or stay all day!
Free "pre-game" training for all registrants
Back by popular demand: Huckleberry's BBQ for lunch!
---
How do you compete for the best projects, best clients?
By being not just good, but GREAT!
How do you achieve greatness?
By knowing more than the next guy, by solving issues before they become problems, by exceeding your clients' expectations.
Get your start to greatness this December at EDGE Expo.
---
Quality education and valuable CEUs, all packed into one day.
This year's conference includes one day of education targeted specifically for you, the green industry professional.
Get a first-hand look at new products and equipment.
Vendors will have dedicated table-top display space in the atrium area that connects all classrooms. Take this opportunity to connect with suppliers, see what they have to offer, and get your questions answered.
Build relationships. 
The EDGE Expo directory will be filled with exhibitor info, so you can stay connected even after the Expo is over.
---
EDGE Expo provides content for everyone working in every segment of the green industry PLUS continuing education credits.
Turf care
Landscape design
Sports turf management
Tree care
Lighting
Golf course management
Parks/rec management
Nursery/grower
Sod production
Landscape management
Landscape construction
Irrigation