Skills USA introduces industry to young adults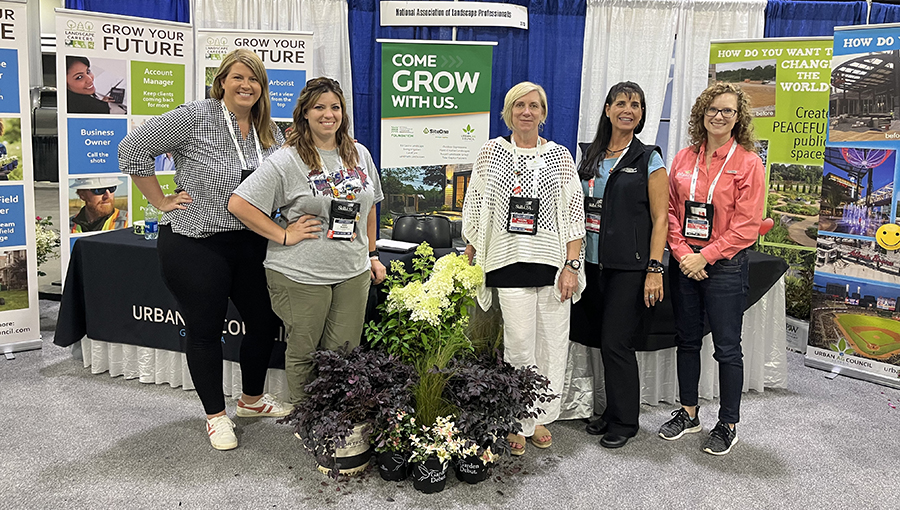 Above, from left: NALP Foundation's Jenn Myers, Oklahoma horticulture instructor Kara Murphy, UAC Executive Director Mary Kay Woodworth, Pamela Moore also from the NALP Foundation, and Raschely Flint from Plants Creative Landscapes teamed together to present the inaugural "National Skills USA Landscape Competition and Careers Booth at the SkillsUSA National Competition at the Georgia World Congress Center June 20-23.
SkillsUSA event held in Atlanta June 20-23, 2022
This event had two objectives:
To introduce the great variety of landscape industry careers to a new and very motivated and interested group of young adults (and advisors/parents/educators) who are serious about entering the workforce.
To introduce the proposed new competition and garner interest and support from teachers, advisors, sponsors and their students at this exclusive national event. Oklahoma instructor Kara Murphy brought her student, Avery (Oklahoma state landscape competition winner) to help with the demonstration competition, and it was terrific!
We were very impressed with the overwhelming interest and support from attendees and look forward to reporting our progress in getting this demo event approved for a full-blown national competition for 2023!
We couldn't have done this without the support of these UAC members:
Plant material donation: Randy Moody, SiteOne Landscape Supply
Onsite volunteers in our careers booth (and swag donators):

Tom Childers, JR Richards, PJ Provinelli - Ewing
Mark Thelen, Michael Baskett, John Blaine - Landmark Landscape
Jeff Walters, Outdoor Expressions
Raschely Flint, Plants Creative Landscapes
Scott Watson, Mark Hopkins - Land Care
Myky Truong - SiteOne Landscape Supply
Maria Vasquez - Ed Castro Landscape
Bryan Tolar, Tolar Capitol Partners
NALP Foundation leaders Teddy Russell and Ed Castro